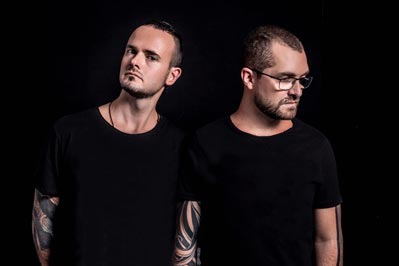 Label: MVX Records
Booking: info@fm-booking.com
Territory: Israel
Rinkadink & Element AKA React

Rinkadink & Element are Marco Lisa aka ELEMENT(Brazil) and DJ Werner van Jaarsveld aka RINKADINK(South Africa). The two collaborated in 2015 for their much anticipated collaboration and releasing their music on Rinkadink's record label - MVX since then.

Element
ELEMENT  started his journey into electronic music in 1996 through the sound of Chemical Brothers, Besatie Boys, Patife, Marky,  among others that rocked the night clubs in São Paulo. Five years late, finally his senses were taken by the surrounding atmosphere of the progressive beat of Psychedelic Trance.
In the year of 2010, ELEMENT emerged in Brazil with shows, jobs and impressive numbers. passionate, critic and studious, Marco remember his inputs and put into practice all the years of research, dedication and passion on his mixed sets with unique skills and proper identity. One of the most influent and respected artist in Brazil, his works have already reached more than 1.5 million of plays and downloads in his Soundcloud, Youtube Channel and on his Official FanPage on Facebook, being one of the biggest from Brasil with more than 220.000 members.

Rinkadink
RINKADINK active in the dance music scene since 2002, playing in more than 38 countries. The music he makes encompasses a variety of styles within the genre and consequently no one style defines him.
A strong believer in the true worth of psychedelic music and culture, he uses his performances as an opportunity for the expansion of human consciousness through rhythm and harmony.